---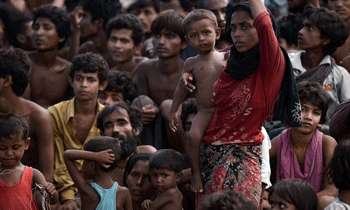 Rejecting reports that Sri Lanka had suspended on arrival visas for Myanmar travellers, the Department of Immigration and Emigration of Sri Lanka said today that it would continue to issue visas for Myanmar nationals as usual, but not for Rohingya refugees.
The Myanmar Times on Monday reported that Sri Lanka has suspended issuing visas on arrival for Myanmar travellers to stop Bengali people from Rakhine State entering the country.
According to the report, Sri Lanka had stopped issuing on arrival visas to prevent entry of Muslims from Rakhine State, who identify themselves as Rohingyas.
The Myanmar Government denied the term and referred to Rohingayas as Bengalis-illegal immigrants from Bangladesh.
Controller General of Department of Immigration and Emigration Nihal Ranasinghe told the Daily Mirror that the Department would not issue visas for Rohingya refugees as they did not have passports to enter a country, but would issue visas for Myanmar nationals who had valid passports.
Meanwhile, the Internal Affairs Ministry said the Sri Lankan Government had acted within the approved legal framework with regard to the situation that had developed in Myanmar and the Rohingya refugees.
In a press release, as the Ministry in charge of Immigration and Emigration Department, it stated that in dealing with this matter, the Government never deviated from the prescribed procedures and would act under the previously approved procedures in future as well.
Numerous groups had expressed divergent views over the past few days with regard to the matter, the statement said.
"A group of 55 Rohingyas fleeing Myanmar was rescued in mid sea by Sri Lankan Navy on March 3, 2008 and handed over to the UNHRC. All these refugees have left Sri Lanka in July 2012.
"In February 2013, SL Navy had once again rescued refugees in the mid sea in two boats with one boat carrying 138 and the other with 32 refugees who were also handed over to the UNHRC. They left the island in November 2015," the statement said.
"Thereafter on April 30, 2017 the Navy rescued near Sri Lanka as they did previously and rescued 30 Rohingyas including 17 children, seven women and a pregnant woman. They were handed over to the UNHRC as was done previously after completing court proceedings," it said. (Darshana Sanjeewa)