---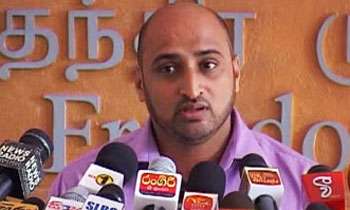 Jathika Nidahas Peramuna (JNP) Media Spokesman Mohammed Muzammil arrived at the Criminal Investigation Department (CID this morning to give a statement with regard to the investigation on VIP assassination plot.
He was summoned by the CID to record a statement based on information provided by the Indian national who is in custody in connection with the case.
It was reported that Mr. Muzammil had met the Indian national at the JNP office.
UPFA MP Wimal Weerawansa and his wife Shashi Weerawansa were also questioned by the CID yesterday over the incident.
Video by RM