---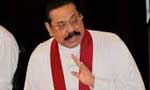 Former President and Kurunegala District MP Mahinda Rajapaksa said in Parliament yesterday that all persons should act in unison rather than hurling allegations against each other to serve the victims of natural catastrophes.
While participating in the debate on natural disaster in the House, Mr. Rajapaksa said the country witnessed serious calamities such as floods in 1958, the cyclone in 1978 and the tsunami in 2004. He said officials and the members of the security forces with experience in responding to such disasters still served in the country.
"It is the duty of all people to cast aside party differences and work for the good of the affected people," he said.
On another note, Mr. Rajapaksa said the damage could have been averted to a certain extent if a proper warning was given. Public servants should be encouraged to work at this moment because they remain reluctant to implement some measures in fear of action against them, he added.
He further lamented that schoolchildren had lost their textbooks and uniforms, and it was a serious matter to be attended to. Commenting on infrastructure development, he said he took steps to build the stretch of the outer circular road on elevated pillars, but not on a landmass filled.
"Today, the elevated road has been fared by the floods. If changes are done to the original plan of constructing the rest of the road, I request the subject minister to consider elevated pillars. We did it after consulting not only engineers but also environmentalists," he said. (Kelum Bandara and Yohan Perera)