---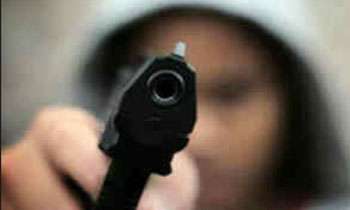 The Wattala Police said that a person who had connections to the underworld and his accomplice had been killed when two unidentified persons opened fire at their vehicle this evening.
Police said a woman seated in the rear seat of the vehicle and her two daughters had miraculously escaped unhurt. It is said that a T-56 machine gun had been used to commit the crime.
The two slain persons were killed were identified as Stephen Ramanadan Raj (31) who was temporarily residing in the Hunupitiya area in Wattala and a person named Madi (37).
They were shot dead while returning from the nearby Hindu kovil to their home, according to the police. The shooting took place by blocking off the vehicle and opening fire on the occupants through the frond wind-shield. The incident was reported at around 3.30 p.m yesterday. The shooters had made a quick getaway thereafter.
A senior police officer said that this shooting had been the work of a person identified as 'Kanna'. Their investigations had revealed that a person named Pukudu Kanna had fled to India several years ago to evade police arrest. The police had received information that he was directing underworld activities while living in India. The CCTV footage is being checked for more clues as to who was responsible for this shooting.
A team of officers are investigating the incident under the supervision of Western Province OIC Senior DIG Nandana Munasinghe. (Srinath Prasanna Jayasuriya and Indika Ramanayake)
Video by Buddhi, Damith