---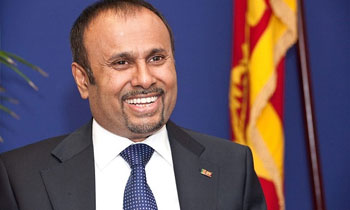 Former Sri Lankan ambassador to Russia Udayanga Weeratunga, who was detained in the UAE, today said he was released by the Interpol.
In a Facebook post, he said the Interpol of the UAE detained him and questioned on February 4 while he was on his way to the US.
"However, after realizing that no charge had been levelled against me at the international level and due to the lack of a red notice of the Interpol, I was released," he said.
He said he has no intention to return to Sri Lanka at this moment because of the alleged political witch hunt of the government.
He said all charges levelled against him were false.
Meanwhile, when contacted, Police Media Spokesman Ruwan Gunasekara said the special investigation team, which was sent to the UAE to hold discussions with authorities there over the possibility of extraditing the former envoy to Sri Lanka, was yet to report back to the police.
"We can't make a comment over the Facebook post made by Mr. Weeratunga as of yet," he said.