---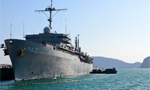 The USS Frank Cable (AS-40) vessel is scheduled to arrive in Sri Lanka tomorrow for a routine refueling and port visit, US Embassy in Sri Lanka said.
This is the third U.S. Navy ship to visit Sri Lanka in 2016, following visits by the USS Blue Ridge and USS New Orleans.
According to the Embassy, sailors from the ship will enjoy shore leave and volunteer at an animal shelter during the visit.
USS Frank Cable is a submarine tender vessel stationed in Guam to support U.S. military forces and provide rescue and recovery assistance in the Indo-Asia-Pacific region. It has a crew of nearly 500 and is currently on a scheduled deployment in the U.S. 5th Fleet and 7th Fleet area of operations to conduct maintenance and support for U.S. Navy submarines and surface vessels.