---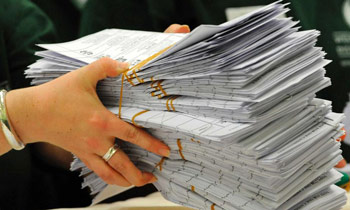 British voters will take to the polls Thursday for the third major vote in three years in a snap election called by Conservative Prime Minister Theresa May.
The general election comes less than one year after the Brexit vote that saw the UK vote to leave the European Union by 52 per cent to 48 per cent.
That result saw Conservative PM David Cameron resign and be replaced by Mrs May.
She called the snap election in April when polls showed her with a more than 20 point lead over Labour leader Jeremy Corbyn in a bid to increase the Conservative majority and strengthen her hand in Brexit negotiations with 27 EU member states.
However missteps during the campaign and a focus on domestic policy have seen Mr Corbyn narrow the gap to within seven points, according to latest polls.
The 68-year-old anti-war campaigner has spent more than 30 years in parliament and inspired hundreds of thousands into politics with his left-wing policies.
Voter turnout is expected to be a large factor in the result, with record numbers of people signing up to vote. More than 600,000 names were added to the electoral role in the final 24 hours, beating the previous spike of 525,000 before the Brexit referendum.
The vote comes after a deadly terror attack at London Bridge that killed eight people and injured 48, leading to a last-minute focus on security and policing.
Mrs May has been forced to defend her previous role as Home Secretary that saw cuts to police budgets. The day before votes closed she said she had no regrets about calling the election to take place three years early.
"I've enjoyed the campaign," she said. "There is a very clear choice for people when they come to vote."
Asked about the result, the 60-year-old who has made much of the fact she's a vicar's daughter said: "I never predict election results."
Mr Corbyn, who has proposed the most socialist Labour Party manifesto in decades said: "Wouldn't it be great if on Friday we woke up to ... a Labour government that will be a government for all of our communities across the whole of the country."
Other major parties the Liberal Democrats, Greens and UK Independence Party have struggled to gain traction during the campaign. (news.com.au)