---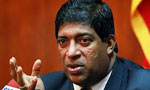 The government's borrowings had doubled last year when compared with the amount approved by Parliament, the Auditor General stated in the annual report of the Finance Ministry.
The Auditor General observes that a borrowing limit of Rs.1,780 billion was approved in terms of the Appropriation Act for 2015, but the government had borrowed Rs.3,349 billion from internal and domestic sources for the year under review in violation of the Act.
JVP Leader Anura Kumara Dissanayake raised this matter in the House and asked how it had happened .
"This is double the amount sanctioned by Parliament," he said.
Finance Minister Ravi Karunanayake said this was an observation made by the Auditor General and that he would explain this matter to the House.
Joint opposition MP Bandula Gunawardane said Parliament had full control over public finances in terms of the Fiscal Responsibility Act, and as a result, he sought a debate on it in the House. He said the newly established Public Finance Committee should take it up.
Joint opposition MP Wimal Weerawansa said he brought it to the notice of the House during the debate on the no-confidence motion against the minister.
"I cited this as a reason for supporting the motion against the minister. You listened to it. But today, you act as if you know of it only today. How come you behave as if someone jolted out of a deep slumber?" he asked. (Kelum Bandara and Yohan Perera)