---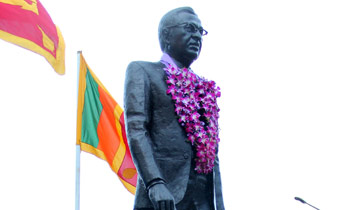 The late Prime Minister Dudley Senanayake, as a true statesman, was the first to see and talk about the dangers of the executive presidency when a system of governance based on such a position was proposed by his own party, Speaker Karu Jayasuriya said yesterday.
Speaker Jayasuriya came up with this remark at a ceremony held to mark the 106 birth anniversary of the late prime minister near his statue in Borella last evening.
"Late Prime Minister displayed skills of a true statesman who thought only of the country's future when his own party proposed the setting up of an executive presidency by speaking about the dangers such a system would bring," Speaker Jayasuriya said.
"Mr. Senanayake who was a statesman was able to bring Tamil politicians and Sinhala political leaders such as the late Philip Gunawawadane onto a single political platform. He did this for the sake of the country without thinking of his political future. What we need today are such politicians," he added.
Joint opposition Parliamentary Group leader Dinesh Gunawardene said late Mr Senanayake never sold out country's assents to foreigners. "Not many people are aware that Mr Senanayake nationalized the Trincomalle Port. It is highly appropriate for the politicians of the present time to study about this leader's policy who was a great believer of a mixed economic system. He said political leaders such as Mr Senanayake who even associated with his political opponents were rare.
Southern Province Governor Hemakumara Nanayakkara recalled how Mr Senanayake created a revolution in the agriculture industry by introducing the cultivation of potatoes in Sri Lanka for the first time. "One Agriculture officer named Normon Gunaratne once came to see Mr Senanayake and told him that potato could be cultivated in the country. Accordingly this officer was sent to the then Minister of Agriculture by the late Prime Minister and thus potatoes became a crop which is grown in Sri Lanka," Mr Nanayakkara said.
Dudley Senanayake Commemoration Society President Dr Karunasena Kodithuwakku recalled how the late Prime Minister Senanayake laid the foundation to build up Sri Lanka- China bilateral relationship which was followed by the late Premier Ms Sirimavo Bandaranaike and other leaders. (Yohan Perera)