---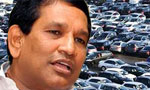 The Treasury gave me the same reason that was given by former Treasury Secretary Dr. P.B. Jayasundera, for higher taxation on vehicle imports, Cabinet Spokesman Rajitha Senaratne said today.
"I used to talk with former Finance Ministry and Treasury Secretary P.B. Jayasundera after increasing the taxes on vehicles during the former Government. Dr. Jayasundera used to say that vehicle taxes were increased for earning higher tax revenue to the Government," he said.
"When I asked the present Treasury, it also gave what Dr. Jayasundera said," Minister Senaratne said.
Minister Senaratne also called for special tax reliefs to hybrid vehicles.
"The country should import as many hybrid vehicles as it can. That will save foreign exchange and help reduce environmental pollution as well," the Minister said.
"The number of vehicles on the roads is at its peak. The road system in the country should be upgraded to accommodate the increasing number of vehicles and until then, the vehicle importation should be limited," he said.
"A research programme is now being implemented with the help of foreign governments to bring solar powered and electric three-wheelers and to convert the existing gasoline three-wheelers to electric power. Gasoline to solar and electric power conversion to three-wheelers would be done by the government at a concessionary rate," he said.
"I discussed with the previous government to reduce taxes, when it used to increase the tax of hybrid vehicles. (Chaturanga Pradeep)