---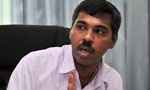 Joint Opposition MP Prasanna Ranaweera, who was suspended for one week, protested the decision and called it totally unfair to victimize him without taking any action against UNP MP Sandith Samarasinghe who assaulted him.
Mr. Ranaweera in a letter to Speaker Karu Jayasuriya said the decision to suspend him from parliamentary sessions for one week from today, had been taken in a manner which was not fair and transparent.
"A person who has been legally challenged by the joint opposition has been appointed to lead investigation in this regard. According to Standing Order 72(1), the Speaker should name the member concerned. Then, the Speaker should present a motion seeking the suspension. Yet, it has happened two days after the incident," he said.
He said, "I learnt that this decision was taken based on a report compiled by the Deputy Speaker and the Deputy Chairman of Committees after watching the video footage of the incident. None has represented the joint opposition which I belong to view this footage. The transparency of the process has been compromised. Against this backdrop, my suspension is an assault on the sovereign rights of the Gampaha district people whom I represent."
He said violence erupted after MPs Palitha Thewarapperuma and Sandith Samarasinghe assaulted him first. (Kelum Bandara and Yohan Perera)