---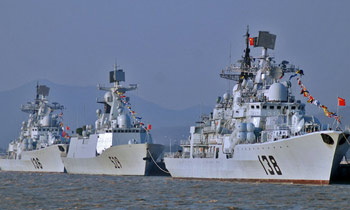 Three Chinese ships carrying relief goods for victims of the floods and landslides will arrive in Sri Lanka on Thursday, the Government Information Department said today.
It also said a Pakistani ship with emergency assistance was scheduled to arrive today.
Meanwhile, Australian Foreign Minister Julie Bishop announced that the Australian Government will provide urgent humanitarian assistance in addition to the high grade inflatable boats that are to be sent to the country as soon as possible.
Responding to a request from the Sri Lankan Government, Australia promised Rs. 57 million to meet urgent needs, including the deployment of high-grade inflatable boats and outboard motors to expedite search and rescue efforts.
Australia's High Commissioner Bryce Hutchesson said 'Our thoughts are with all Sri Lankans affected by the flooding and landslides, especially those who have tragically lost family. With this year marking the 70th anniversary of formal bilateral relations, we are proud to maintain our long history as a supportive partner and neighbour by providing this assistance, which will aid Sri Lanka's recovery efforts now and help address future needs'.
Issuing a statement, the High Commission said Australia would also support UNICEF's efforts to provide clean water and safe spaces for children, as well as the work of International Planned Parenthood Federation's SPRINT Initiative, which provides access to essential life-saving sexual and reproductive health services in crisis and post-crisis situations.