---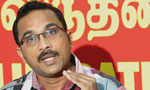 The possibility of presenting three reports by the Committee On Public Enterprises (COPE) has arisen as there are three groups of members which hold different opinions on the Bond issue, a member of the committee revealed today.
Member of COPE MP Bimal Ratnayake told a media briefing that one group directly holds former Central Bank Governor Arjun Mahendran responsible for the alleged scam regarding bonds while another group of members are of the opinion that there has been no scam at all while a third group of members is of the conclusion that there has been a scam but former Governor and others are not responsible for it.
"There may be even more than two reports considering the circumstances," Mr Ratnayake said.
Responding to a question raised by the journalists as how could there be several reports of a committee in Parliament, the MP said there is provisions for such a situation according to the standing orders.
"There is no barrier for several reports but it would have been better if one report was presented," he said.
"There were extensive discussions by the COPE members especially with regard to the Bond Scam on October 20 and 21 but as there were three opinions, the report which was prepared by the COPE Chief Sunil Handunetti and the Secretariat was approved by a majority of members will be presented to the House either on Tuesday (October 25, 2016) or Wednesday (October 26 2016)," he added.
Further, he recalled that the committee appointed by Prime Minister Ranil Wickremesinghe to probe the Bond Scam also called for an independent investigation as there was an unclear situation. (Yohan Perera)