---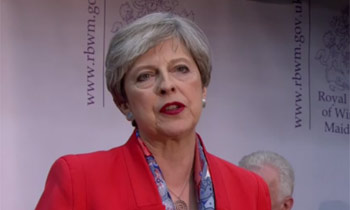 British Prime Minister Theresa May is refusing to quit despite her disastrous election night as the UK voted for a hung parliament, the Telegraph reported a short while ago.
Mrs May's decision to call a snap election backfired in spectacular fashion as she lost the Conservatives' majority in the House of Commons as Labour made significant gains.
She is now scrambling to try and form a government, potentially with the help of the Democratic Unionist Party and while the DUP has signalled a willingness to do a deal its leader Arlene Foster has expressed doubts that the Prime Minister can "survive".
Jeremy Corbyn, the Labour leader, has urged Mrs May to resign as he said she should "go and make way for a government that is truly representative of this country".
Meanwhile, even senior Tory figures have suggested she should consider her position.
But Tory sources have told The Telegraph that Mrs May is likely to stay on as Prime Minister because she does not want to allow Brussels to delay Brexit talks.
One source said: "The digging in seems to have something to do with their not wanting to allow Brussels to postpone the Brexit talks on the claimed pretence that 'there isn't a UK Government'."
Mrs May has insisted the UK needed a period of stability as she delivered a speech following her re-election as the MP for Maidenhead. She said: "At this time, more than anything else, this country needs a period of stability.
"If, as the indications have shown and if this is correct, the Conservative Party has won the most seats and probably the most votes, then it will be incumbent on us to ensure that we have that period of stability and that is exactly what we will do."
As things stood on Friday morning, the Conservatives had won 314 seats, a loss of 12, while Labour had won 261, a gain of 29.
And with 646 of the 650 seats now declared, no single party will be able to secure an overall majority, with a hung parliament now guaranteed.
That means that Mrs May's path to power will likely require a deal to be done with the Democratic Unionist Party, which increased its representation at Westminster from eight to 10.
It has signalled it is ready to discuss working with the Tories on issues such as Brexit and keeping the UK together.