---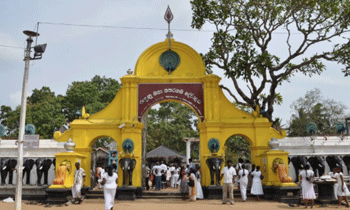 A tense situation prevailed in the early hours today at the Kataragama Devalaya premises, when Basnayake Nilame D.P. Kumarage and his son had reportedly taken away the keys of the devalaya, when the Chief Kapurala was preparing to begin the daily Pooja.
The daily Poojas begin with the 4.00 a.m. offering except on Saturdays at the devalaya and a large number of devotees had arrived at the premises to take part in the today's offering.
A son of the Chief Kapurala, who is also another Kapurala of the devalaya, had gone to the house of the Basnayake Nilame with a group of angered devotees.
Residents and the devotees had broken down the gate of the house and snatched the keys from the Basnayake Nilame forcibly.
The offering was later held at 6.30 a.m.
The Police had to intervene and prevent a clash when the key was returned to the Basnayake Nilame as he was being assaulted by devotees and residents. (M.K.Nandasena)