---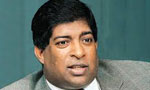 Hitting back at Finance Minister Ravi Karunanayake on his remarks to go ahead with the new Customs Act despite objections, Customs Trade Unions yesterday urged President Maithripala Sirisena to either remove Minister Karunanayake or to bring the Customs under his purview.
The minister said on Tuesday that he would go ahead with the proposed Customs Act and described those opposing the Act as offenders.
Sri Lanka Customs Independent Government Trade Union Organisation General Secretary R.P. Wijekoon responded to the minister saying the proposed Act will destroy the economy as well as the Customs Department.
He said the minister should present the white-paper and the draft of the new Act to the trade unions and hold a referendum before replacing the existing Customs Ordinance.
"If there is any white-paper, he should submit it to us for checking. The minister says the majority of the stakeholders in the Customs are with him and the opposition to the new Act is only from a few groups. This is not so, we like to remind him how the Customs was crippled during our previous TU action. The majority of TUs are against this move. We challenge him to reveal names of at least ten credible and honest people who are supporting the new Act," Mr. Wijekoon said.
He accused the minister of moving ahead with the new Act to please a group of businessmen around him and rejected the allegations that those who were against the Act of having vested interests.
Mr. Wijekoon questioned the rationale behind the eagerness to replace Ordinances of the Customs, Excise and Inland Revenue and said these were not the need of the hour. "People are suffering from tax increases today. We appointed the government to listen to us and to be flexible, not to be stubborn," he said and added that they would today meet the President in connection with the proposed Act also meet the MPs and even foreign envoys in Colombo to brief them about the controversy. (Lahiru Pothmulla)