---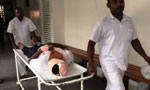 Two officers attached to the Government Intelligence Service were hospitalised today with injuries due to a sword attack by two unidentified motorcyclists who had allegedly stabbed them in Chunnakam, Jaffna.
The injured officers receiving treatment at the Tellipalei Hospital were transferred to the Jaffna Teaching Hospital for further treatment.
The condition of the injured is said to be not critical.
They were identified as Police Sergeant Nawarathne and Police Constable Herath.
Security of the Chunnakam area is tightened with the presence of the Special Task Force.
A special investigation was launched to arrest the assailants of the sword attack. (Selvanayakam Kapilan, Romesh Madushanka)