---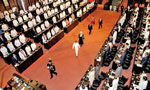 President of the Switzerland National Council Christa Markwalder said Switzerland stands ready to assist in strengthening parliamentary democracy in Sri Lanka including providing technology, training and capacity building.
She said this during the official meeting with the Sri Lankan parliamentary delegation led by Minister of Transport and Civil Aviation Nimal Siripala de Silva, at the Switzerland National Parliament in Bern recently.
During the meeting, the Swiss delegation explained the Swiss parliamentary structure and its functions to the Sri Lanka delegation.
Meanwhile, Minister Nimal Siripala de Silva briefed the Swiss delegation regarding the steps taken to strengthen the parliament through constitutional amendments in recent times including the 19th Amendment to the Constitution, paving the way for the establishment of the independent commissions, as well as the proposed Constitution and the electoral reforms currently under deliberation.
Noting the close bilateral relations between the two countries, Minister de Silva called for cooperation between the two parliaments in the years ahead.