---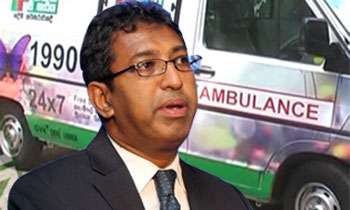 State Minister of National Policies and Economic Affairs, Harsha de Silva said today a participant at the 'janabalaya' protest was admitted to the National Hospital by a 'Suwasariya' ambulance today.
In a Facebook post, he said multiple stories were circulating on the '1990 Suwasariya' ambulances transporting 'X' and 'Y' number of people.
"The fact is that we transported only one person to the hospital. I am posting these details as a clarification from our command and control centre for those interested," he said.
According to the details received by the command and control centre, an alcoholic having upper and lower extremity swelling with bleeding had been picked up by an ambulance from the pavement near the Nelum Pokuna Theatre and admitted to hospital.