---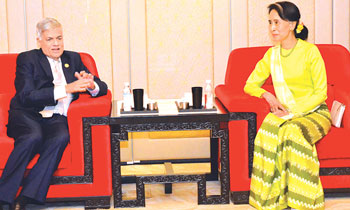 State leader of Myanmar Aung San Suu Kyi has called for Sri Lanka's support to strengthen her country's Parliament and ensure democracy there.
Suu Kyi made this request when she met Prime Minister Ranil Wickremesinghe in China yesterday.
The Sri Lankan Premier had assured her of Sri Lanka's support and had invited the state leader to visit Sri Lanka soon.
Ms Suu Kyi had expressed a desire to visit the city of Kandy. The talks between the two leaders had focused mostly on enhancing diplomatic ties between the two countries.