---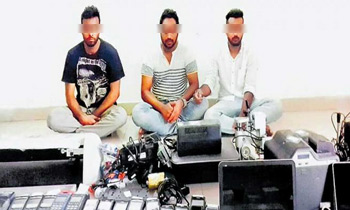 A Sri Lankan national and two Bengalureans have been arrested for defrauding bank customers in different countries of a staggering Indian Rs 100 crore by faking their credit cards in what is believed to be a massive online racket.
Divyan, a 30-year-old man from Jaffna, Sri Lanka, teamed up with Nawaz Shariff (22), a resident of Kanakanagar, and Nadeem Shariff (30), from HRBR Layout, to cheat credit card holders from Australia, Japan, Germany, Britain and other European countries. The gang targeted customers from these countries presuming that police would not come to India in search of them.
The suspects used an ingenious method to commit the fraud. First, they bought credit card data from shady websites. They then purchased magnetic swipe cards from e-commerce firms and used the secret data to clone credit cards. The next step was to contact businessmen from Haryana, Delhi, Mumbai and Puducherry who operate in Bengaluru and use point of sale (PoS) machines. They convinced these businessmen to allow them to swipe the credit cards at their PoS machines and promised them attractive commission on each transaction.
At this stage, the suspects acted cautiously. They always carried out transactions of low amounts so as to avoid scrutiny. Once the transactions were done, money would get transferred from the original card holders' accounts in foreign banks to the businessmen's bank accounts in India.
Foreign currency gets automatically converted into Indian rupees in case of credit card transactions. In these cases, credit cards were used and money was transferred without any sale taking place. Around 36 shopkeepers, some of the relatives of the suspects and bank officials were also part of the racket which had been going on for several years now and proved a money-spinner for all those involved.
The trio's luck, however, ran out when they bought three LED television sets for Rs 1.1 lakh at Vishnupriya International, a home appliances store at Doddakallasandra, on June 21 and used a fake credit card to make the payment. The credit card turned out to be of a person from Bengaluru. The customer immediately blocked the card after receiving a message from the bank. The transaction was cancelled.
A team of the Central Crime Branch (CCB) happened to visit Canara Bank to investigate the increasing cases of online fraud. The bank staff informed the police about the illegal transaction at Vishnupriya International. The suspects had left a trail: they had given their phone number at the time of placing the order for the LED sets.
CCB sleuths started tracking them on the basis of the phone's location and traced them to a three-bedroom flat at Prestige Collingwood in Jalahalli. During the raid, police found 144 fake credit cards, 16 fake driving licences, 36 card swipe machines, a card reader, a lamination machine, a card-printing machine and 270 plain cards.(Deccan Herald)