---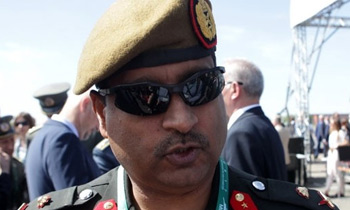 Sri Lanka is showing interest in purchasing the Belarusian military hardware, the Belarusian Telegraph Agency (BelTA) learned from Security Force Headquarters Commander of Sri Lanka, Major General Ruwan Kulatunga at the MILEX 2017 exhibition.
The Major-General thanked for the invitation and praised the Belarusian Armed Forces during the show of the MILEX 2017 exhibition opening ceremony. He was especially impressed with a waltz of armored vehicles.
The Security Force Headquarters Commander Ruwan Kulatunga stressed that Sri Lanka is extremely interested in cooperation. "We are mainly interested in overhauling our armored vehicles, modernizing armament systems.
We also consider buying new specimen of equipment and technology," the Major-General said. In his words, the Armed Forces of Sri Lanka have already been using the Belarusian military equipment.