---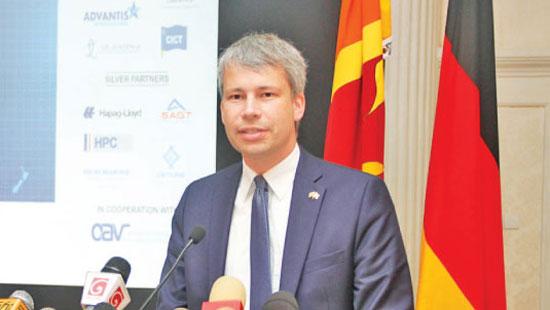 German Vice Minister of Transport and Digital Infrastructure Steffen Bilger, who was in Sri Lanka recently, speaks to Daily Mirror, among others, about the importance of the port and airport services in Sri Lanka.
Colombo is fast becoming an international hub because of port and airport services, and the potential for their further expansion. Vice Minister Bilger said he was glad to hear news about plans for digitalisation of the Colombo Port and said there are a lot of opportunities for the port of Colombo through digitalisation.
Excerpts of the interview:
*How do you comment on German –Sri Lanka bilateral relations?
Our relations are very good. Sri Lanka has a lot of friends in Germany-especially the ones who have come here as tourists and experienced the hospitality. There is also good cooperation between the companies of our two countries. That is one of the reasons for me to come here. We want to increase cooperation at our government's level. Sri Lanka is a very important hub in terms of logistics. It was very much appreciated that Sri Lanka was present at the fair "transport logistic" in Munich, one of the biggest logistics fairs worldwide. I was told by the Sri Lankan Minister that a delegation would come again. There is so much potential to further improve our cooperation and create more trade.
*Now, there is a German trade office permanently present in Sri Lanka. How far have you progressed in this regard?
This was a really important signal from my point of view. The establishment of this office makes it so much easier for German companies to do business in Sri Lanka.
*Sri Lanka is relatively a small market. In that case, how do you view the importance of Sri Lanka as a trading hub to reach markets nearby?
If you look at the map, you know how important Sri Lanka is in terms of its positioning. We see the importance of the ports. We have a trade volume of more than one billion Euros. And that could grow further. It is one thing we want to see.
German companies are doing good business here and create jobs. For example, DHL has been here for many years. Sri Lanka is an attractive location for our big companies and family-owned companies alike.
*As far as port services are concerned, what are the key areas to be developed?
You have to make decisions quickly. I am glad to hear news about the Sri Lankan plans for digitalisation of the port of Colombo. I went to Hamburg port and visited their smart terminal. It was really impressive. There are a lot of opportunities for the port of Colombo through digitalisation.
In Germany, we have large companies. We have also lots of small and medium-size companies. For them, it is important to have a level playing field. It is difficult for them to invest so much money upfront. They should be allowed smart ways to invest and grow from there. If you have a German company doing business here, you can be assured that it stands for quality and is interested in a long-term relationship. If there is fair competition, German companies stand all the chances.
We had a fruitful discussion about this with Minister Sagala Ratnayake. We agreed on a step by step approach. As a politician, I can understand that since it allows including everybody on the way.
*Is Sri Lankan economy open enough?
There are Free Trade Agreements (FTA) with India, Singapore and Pakistan. Further FTA are under negotiation with China, Thailand etc. It is important that you have FTAs to become a trading hub. Sri Lanka has to decide what it wants to do. Germany is in favour of free and fair trade.
*What do you think of Sri Lanka' airport services?
Well, I would appreciate if there was a direct flight to Germany. I know there are connections to other countries in Europe. Still, I don't understand the decision by SriLankan Airlines to cancel the direct flight to Frankfurt.
*What are the other potential investment areas in the transport sector?
German companies are interested in projects concerning alternative fuels for buses or other modes of public transport. We have also embarked on the development of future mobility in Germany. This is a worldwide trend. It is happening in China, Japan, and South Korea. German companies are interested in investing here. I would appreciate very much if there were projects. Our car industry is well represented here. We also have a lot of competence in railway systems and are developing interesting solutions in this sector. The representatives of German companies I've met during my stay in the country told me, that they are doing good businesses here.
*Are they interested in developing high-speed rail here?
No high-speed rail. They are interested in Light Rail Systems, can offer support in planning new tracks and could provide high-quality components like brakes or drive trains.
*How did you find your bilateral engagement with Sri Lankan leaders?
I was impressed by their openness and their wish to improve Sri Lanka's position as a trade hub. I think we had a good start and I am looking forward to see our cooperation develop further.
*You also met with Megapolis and Western Development Minister Patali Champika Ranawaka. How was that discussion?
He is certainly an important minister for future developments. The development of cities and urban spaces is not possible without modern transport systems and vice versa.
*We are recovering from the terrorist attack on April 21, 2019. How did it affect German-Sri Lanka businesses?
It had a big impact on tourism. The number of German tourist arrivals dropped by 70 per cent but has now recovered. Usually, German tourists trust the travel advice of our Foreign Ministry. Today, there is a danger of terrorist attacks all over the world. We had one terrorist attack in Germany as well. But there is no travel warning for Sri Lanka. I met with the German companies here. They trust that your government made the right decision to fight terrorism. This is a task of governments all over the world. We all face the danger of extremist terrorist groups. We have to fight against them.
*What is your impression about Sri Lanka?
I will tell my wife that we should have a vacation in Sri Lanka. I had a very good impression and was overwhelmed by your hospitality. (By Kelum Bandara)