---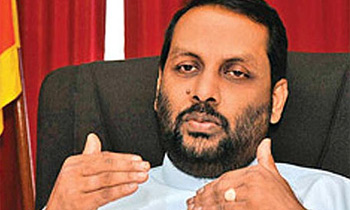 Ministers, who had allegations of corruption against them should be removed from the Cabinet, General Secretary of the UPFA Mahinda Amaraweera said on Saturday.
"It is sad to note that some Ministers, who are involved in corruption, still remain in the Cabinet though they should be removed from it," Minister Amaraweera said at a public function over the weekend.
"Much is said about a Cabinet reshuffle but my opinion is that those Ministers, who are only interested in safeguarding their families and trample the people should be removed," he added.
The United People's Freedom Alliance (said there were some Ministers, who think the Ministries they hold were their personal properties.
"It is a sad state of affairs if there are ministers who think about their political party and fight for Ministries," the Minister further said.
"It is not good to look for ministerial posts for his or her survival, while one should be prepared to work for the people no matter what Ministry he gets. I was the Minister of Disaster Management but people were not even aware that such a Ministry existed," he said.
"At the Ministry of Fisheries I have been able to convert several institutions under that ministry into profit making entities," he said.
Further the Minister said some businessmen had engaged in creating a rice shortage in the country and the Government should focus on it and see to it that there was no shortage of rice.
Speaking on the North Central Province, the Minister said some members of the Provincial Council had got themselves into a mess by trying to capture the office.
"One cannot come to office of a provincial council in such a manner," he said.(Chandraratne Gamage)