---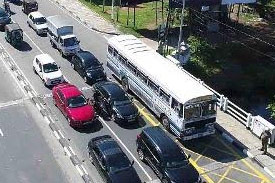 Motorists reported smooth traffic flow at Rajagiriya today, day 2 of the pilot project by Ministry of Megapolis and Western Development.
The ministry officials had recommended minor adjustments after the teething problems experienced yesterday and Minister Patali Champika Ranawaka had directed that they be implemented with immediate effect from day 2.
The week long pilot-project of bus –priority lane is being carried out as a trial in view of gathering information for formulating plans to ensure smooth traffic flow in Colombo.