---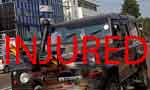 Six students were injured when a jeep carrying about 13 students had toppled near the Public Library in Colombo 7, Police said.
The injured students were admitted to the Colombo National Hospital.
The incident happened when the students from a leading school in Colombo were taking part in a vehicle parade in view of the school's big match.
Video by Buddhi