---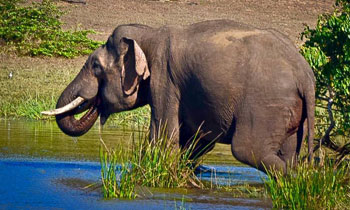 A part of the penis of a wild elephant popularly known as Sithulpawwa Gemunu had been ripped off by a crocodile last evening at Sithulpawwa and it was in serious condition, officers of the Wildlife Conservation Department said.
Gemunu, also known as Arjuna, is one of the two tuskers in the country to have the longest tusks.
An officer said that the animal was a usual visitor to the temple to eat danaya or offerings.
He said that an incident of a crocodile ripping off a part of an elephant's sexual organ had not been reported previously.
He said that the animal was seen running through the forest with profuse bleeding and in extreme pain.
Senior Veterinarian Surgeon Ananda Dharmakeerthi, in charge of the Uva Wildlife Zone, together with two teams, had gone in search of the elephant to provide treatment.
"The elephant used to lay down in the water on the bank of the wewa near the temple. The animal had suddenly run away covered with blood. When I reached the elephant the wound had dried. We have treated the wounded elephant with vitamins and antibiotics," the Wildlife Conservation Department official said. (Chaturanga Pradeep)