---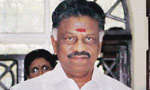 Tamil Nadu Chief Minister O. Panneerselvam had written another letter to Prime Minister Narendra Modi on Thursday urging him to send a firm message to Sri Lanka against continuing arrests of Indian fishermen.
According to New Indian Express, 10 fishermen from Jegathapattinam fishing base in Pudukkottai who had set out in two boats were apprehended and remanded on Wednesday.
The Chief Minister said the latest incident of fishermen from Tamil Nadu being apprehended by Sri Lankan Navy has come at a time when the fishing community in Tamil Nadu was hopeful of a permanent solution following the ministerial meeting in Colombo on Monday.
"A firm, clear, unequivocal and unambiguous message should be sent out by the Government of India to the Sri Lankan side to ensure that these trends are reversed and thereby clearly signalling that the Government of India is firmly committed to protect the livelihood of the poor and innocent fishermen from Tamil Nadu who are engaged in their traditional occupation and fishing in their traditional waters," Panneerselvam said in his letter to Narendra Modi on Thursday.
There are 116 fishing boats and 61 fishermen in Lankan custody.