---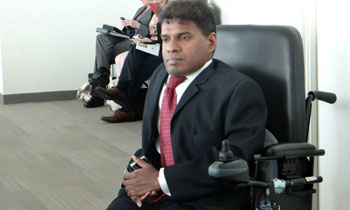 The first Sri Lankan with a differentiable to be an elected representative and a lawyer and 2016 recipient of the Henry Viscardi international Award for exemplary leadership among the disabled, Uva provincial councilor Senarath Attanayake has passed away this morning at a private hospital.
An old boy of Royal College Colombo, 51 year old Senarath Attanayake was the son of former parliamentarian and former Basnayaka Nilame of the Ruhunu Maha Kataragama Devalaya, Jayawardena Attanayake.
Senarath joined active politics in 1999, following the death of his father and has served as the Minister of Agriculture, Irrigation, Livestock, Land and Forestry of the Uva Provincial Council from 2000–2005 and was also the acting Chief Minister for a brief period.
By the time of his death Senarath had pioneered a project to make Moneragala the first Disable Friendly District in Sri Lanka, with the assistance of the World Health Organization.
He represented Sri Lanka at the 6th, 7th and 8th Conferences of State Parties to the United Nations Convention on the Rights of Persons with Disabilities. Senarath was married to Lasanthi Daskon an Attorney-at-Law and a Disability Rights Activist.
Remains will be taken to Bibile tomorrow (30) and the funeral will be take place on Thursday (31) in Bibile.