---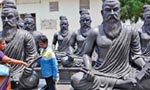 Sixteen impressive statues of the Tamil savant Thiruvalluvar, made in Chennai, will be shipped to Colombo to be installed in 13 schools and 3 colleges in the island nation this week.
The nearly 6.5 foot high statues made of fiberglass depict the sage sitting on an adhara peedam (pedestal) 1.75 foot high.
They would be shipped to Colombo on Tuesday to be installed at 16 locations.
"Our gift to Sri Lanka will help to further strengthen relations between Indian and Lanka. This will also highlight the importance of Tamil (language) and Thiruvalluvar's Thirukkural in short and sweet lines," says V.G.P. Santhosam, chairman of VGP group of companies and founder of VGP Ulaga Tamil Sangam on Sunday. The VGP Ulaga Tamil Sangam is the donor of the statues.
These statues would be installed in the Tamil dominated areas like Savagachery, Kilinochi, Mullai Island, Mannar, Puliyangulam, Thirukonamalai, Puttalam, Mattakkalapu, Mattalai, Kalmunai, Kambaga, Navalpitti, Theraniyakal, Attan, Pandaravalai and Erakuvalai.
The VGP Ulaga Tamil Sangam, which has a tradition of providing Valluvar statues to various countries, immediately accepted a proposal and got the statues done, Mr Santhosam said and lauded the efforts of Sri Lanka's education minister V.S. Radhakrishnan and Sri Lanka's coordinator K. Sachidanandam for their efforts in this direction. Speaking to DC, Janikaraman, sculptor said the statues could withstand the vagaries of nature. "It took nearly two months to make the statues. We decided to make the conventionally accepted sitting posture of the sage," he added.
All the statues were displayed before the secretary of Sri Lanka education department Tissa Hewavitharana and Sri Lanka Deputy High Commissioner V. Krishnamoorthy at Sathya Studios in the city on Sunday. Acknowledging Mr Santhosam's gesture, Mr Tissa said the gift of 16 statues of sage Thiruvalluvar to Sri Lanka was a matter of pride and privilege to the people of Lanka.
"The Thirukkural has been translated into 62 languages of the world including your neighbouring language Sinhalese. The people of Tamil Nadu should be proud to hear that there are three translations of Thirukkural in Sinhalese," Mr Tissa said. This effort would go a long way in further strengthening the cultural cooperation between the two countries, said Mr. Krishnamoorthy. (Deccan Chronicle)