---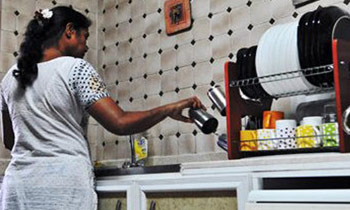 The Sri Lankan housemaid, who claimed that she was held in captive in Saudi Arabia allegedly by her employer and brought back to Sri Lanka yesterday rejected claims by the Sri Lanka Bureau of Foreign Employment (SLBFE) that she had made a false complaint.
"The house owner was holding me captive for more than two months after my service contract had expired in March 2017. The employer had forced me to donate a kidney to his wife who is suffering from a kidney ailment," W.W. Indarakanthi (36), a mother of three children and a resident of Kandalama in Dambulla said.
Much publicity was given by FEB officers that this woman had made a bogus claim and that she had been pardoned by the Saudi police on her making an appeal. However, speaking to Daily Mirror she said no such appeal was made to the Saudi Police, "nothing of that sort had taken place and that a woman in the house she worked for in Saudi had demanded one of my kidneys and the statement I made at the time to the media was true." She said her employer's son had told the Saudi police that he was not a son but a brother of the householder.
The housemaid said a lady officer of the Sri Lankan Embassy in Saudi had requested her to write a letter saying that the house owner had never demanding her kidney, and that she did not intend making a false claim.Several attempts to contact the Saudi Ambassador were unsuccessful and our attempts to contact Sanika Illangakoon the Sri Lankan representative in Saudi who had allegedly obtained the letter from the woman was also futile. (K K Ariyadasa)