---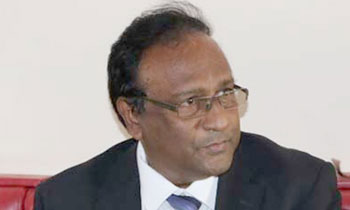 The UNHRC Special Rapporteur Ms. Monica Pinto's allegations following her visit to Sri Lanka in 2016 that SL Judiciary was highly politicised and judges give verdicts favouring the Government was a derogatory and contemptuous statement made towards the Judiciary with a proud history of 200 years, retired Rear Admiral Sarath Weerasekara said.
Addressing United Nations' side event held in Geneva Thursday (15) Mr. Weerasekara questioned the ability of Ms Pinto to read, study and analyse.
He asked how she came to the conclusion that Sri Lankan judges were incompetent, incapable, poorly selected, corrupt, cowardly and partial within just eight days.
"It is very obvious that all these were pre-conceived /pre-determined observations, influenced by separatist elements to justify foreign judges, lawyers and prosecutors in special courts in Sri Lanka to try our soldiers who defeated the terrorists trying to separate the North from the country," he said.
He also said that before coming to a conclusion that Sri Lankan judges were not capable enough to handle systemic crimes, the UNHRC should go through the achievements of the judges who work for the Judiciary in foreign countries.
Further, he also turned down the charges made by OISL Report of Zeid Al-Hussein, the High Commissioner of UNHRC that Sri Lankan forces committed genocide, indiscriminate shelling, and preventing aid to Tamil areas. (Thilanka Kanakarathna)