---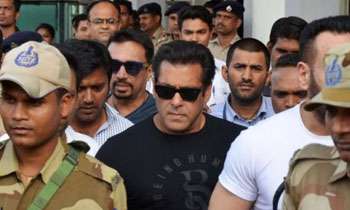 An Indian court has sentenced Bollywood superstar Salman Khan to five years in jail for poaching rare antelope back in 1998, the BBC reported today.
The court in Jodhpur also fined him 10,000 rupees ($154; £109) for the crime. He will now be taken to jail.
Khan killed the two blackbucks, a protected species, in the western state of Rajasthan while shooting a film.
Four other actors who starred with him in the movie and were also charged with the offence have been acquitted.
Khan, 52, can appeal against the verdict, but in a higher court.
Correspondents say he will have to spend at least a few days in prison.
This is the fourth case filed against the actor in connection with poaching animals during the filming of the 1998 movie Hum Saath Saath Hain.
He has been acquitted in three of them.
In 2006, a trial court convicted the actor in two cases of poaching and sentenced him to five years in prison. The Rajasthan high court suspended the sentence the following year, and eventually acquitted him in 2016.
The state government has appealed against that order in the Supreme Court.
The original poaching case against him was filed by the local Bishnoi community, who revere and worship the blackbuck.
In December 2015, Khan was cleared in a 2002 hit-and-run case in which a homeless man died and four others were in injured. His car allegedly ran over them while they were sleeping on a street in the western city of Mumbai.
A lower court had convicted him in May 2015. During his trial, Khan had argued that his driver had been behind the wheel, but the judge said it was the actor who had been driving under the influence of alcohol.
Seven months later, the high court acquitted him. It said that key evidence - including testimony from a policeman who had since died - was not reliable.
In January 2017, Khan was also acquitted in another case that charged him with using illegal firearms to kill the blackbucks.