---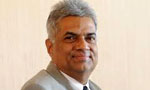 The Government yesterday hinted out a salary hike to attract skilled technologically competent people.
This was hinted out by both President Maithripala Sirisena and Prime Minister Ranil Wickremesinghe at the opening of Jinaratana Vocational Training Centre at Hikkaduwa to mark the birthday of Chief Incumbent of the Gangarama Vihara, Hunupitiya Ven. Galboda Gnanissara Thera yesterday morning.
President Sirisena said Sri Lanka did not have an issue of unemployment. He said what Sri Lanka was experiencing was a dearth of skilled and technologically competent people to fill large number of job vacancies.
"There are more than 100,000 jobs in the skilled and technological fields both in the government and in the technological centres," he said.
"One cannot find many skilled and technologically competent people even in the State sector though there are GCE Ordinary and Advanced Level qualified persons. But there is a dearth in personnel who are technically competent," the President added.
Paying a tribute to Venerable Gnanissara Thera the President said the Gangarama temple had won the respect of people of all religions. This he said was because the role carried out by the temple and the Chief Monk did not confine to religious work alone.
Prime Minister Wickremesinghe said the government would think of increasing wages to attract the skilled and technologically competent persons.
"We will have to increase salaries of skilled and other technological experts as they will opt to obtain employment abroad, if we don't offer them higher salaries," the Prime Minister said.
Further, the Prime Minister said the country needed personnel with IT skills, those who were specialized in the hotel and tourism industry and competent persons in other industries.
Premier Wickremesinghe lauded Venerable Gnanissara Thera for the role he had played in producing youth with vocational skills. (Yohan Perera)