---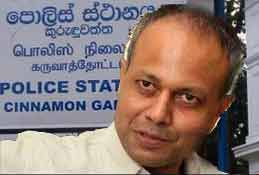 Law and Order Minister Sagala Ratnayake paid a surprise visit to the ten storey quarters building of the Cinnamon Gardens Police Station early yesterday and apparently appalled by its deplorable status, ordered immediate renovations to it, the Daily Mirror learns.
The minister who is said to have taken along Police Chief Pujith Jayasundara with him to the Cinnamon Gardens Police Station around 6.50 am had inspected the entire premises including the 10 storey living quarters of all junior police officers.
Minister Ratnayake who had gone for his morning exercises in the Torrington area early yesterday had reportedly asked IGP Jayasundara to join him in his daily PT session. He had then suddenly decided to visit the Cinnamon Gardens Police Station along with the IGP, with the latter having no knowledge on what the sudden visit was all about, the sources said.
The minister in his jogging kit had virtually climbed to the top floor of the building and checked for its condition which was not at all pleasing. None of the washrooms were equipped with working showers and water connections.
Garbage was found piled up in every nook and corner of the building along its stairway, where discarded cigarette butts and empty liquor bottles too were observed by the minister, the sources said.
The minister was surprised to learn that there was no lift for such a high-rise building that housed around 550 policemen, whose only bathing option was a water tank behind the building on the ground floor. Apart from the officials of the Cinnamon Gardens Police Station the building had been allocated for members of the Judicial Security Division (JSD) and State Intelligence Service (SIS).
After personally inquiring about the matters of the police officers using the building the Minister ordered the IGP to restore it with basic facilities within two months.
The IGP had then summoned all senior officials from ASP to the Senior Deputy Inspector General to the police station and conducted a separate conference for over a couple of hours explaining how to maintain their living surroundings. (Kurulu Koojana Kariyakarawana)