---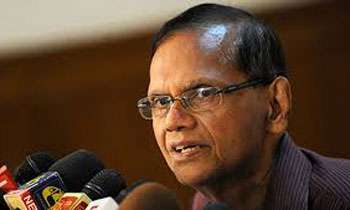 The Sri Lanka Podujana Peramuna (SLPP), which is under the de facto leadership of former president Mahinda Rajapaksa, said yesterday it would never support President Mathripala Sirisena as a candidate for the next presidential election.
SLPP Chairman G.L. Peiris told reporters the President was not only an integral part of the current government but also its pinnacle.
He said the newly appointed Sri Lanka Freedom Party (SLFP) General Secretary Rohana Lakshman Piyadasa and National Organizer Duminda Dissanayake had recently said the SLFP would nominate President Sirisena as its presidential candidate.
"The minister is quoted to having said his party would form a broad alliance with like-minded political parties to ensure the President's victory in 2020," Prof. Peiris said.
He said the people had suffered immensely at the hands of the current government and that the people should not suffer the same plight for another five years.
Quote -- The minister is quoted to having said his party would form a broad alliance with like-minded political parties to ensure the President's victory in 2020. (Kelum Bandara)
Video by Buddhi