---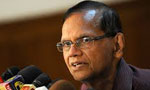 Sri Lanka Podujana Peramuna (SLPP) said today it would contest the next elections in alliance with the parties in the joint opposition.
"The overtures being made to us is a ploy to overcome challenges at the upcoming elections. We will not be duped for the second time. The clamour is for former president Mahinda Rajapaksa to lead the party at the elections," SLPP Chairman G.L. Peiris said.
He said the Sri Lanka Freedom Party (SLFP) was an appendage of the United National Party (UNP) pointed out that the people would rally behind the new political party.
The SLPP made these comments in the wake of some SLFP ministers talking about the formation of a new government by uniting SLFP. (Kelum Bandara)