---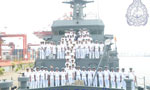 The Offshore Patrol Vessel 'Sayura' and Fast Missile Vessel 'Suranimala' of the Sri Lanka Navy together with three hundred and four Navy personnel including 20 Midshipmen left for India today on a training and goodwill visit.
The two ships are scheduled to make their port of call at Cochin in India tomorrow and take part in a series of training programmes until 28th October 2016.
The training is scheduled to take place for 07 days and would allow them to meet and interact with their Indian counterparts, strengthening the bilateral relations and friendship between the two friendly navies.
The navy crew will also make familiarization visits to number of training schools in the Indian Southern Naval Command, including INS Venduruthy and INS Dronacharya and take part in a wide range of training programmes, covering a wide spectrum of activities.
The visit will pave the way for SLN personnel to obtain first-hand experience of the latest developments in the advanced navies of the world. (Navy.lk)