---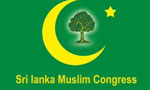 The Sri Lanka Muslim Congress (SLMC) yesterday said that they have not taken any decision as yet to take action against Eastern Province Chief Minister Nazeer Ahamed for reprimanding a naval officer during an event held at the Sampur Maha Vidyalaya last Friday.
SLMA General Secretary Hassan Ali said the Working Committee of the party should be convened if a decision is to be taken in this regard.
Nazeer Ahamed is a member of the SLMC who succeeded M. N. Abdul Majeed as the Chief Minister of the Eastern Province in February last year.