---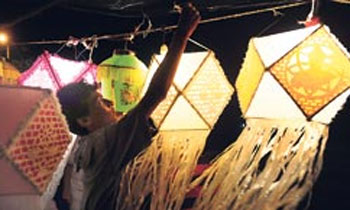 President Maithripala Sirisena is to submit a proposal to the International Buddhist Seminar-a segment at the 2017 UN Vesak Day celebrations to be held in Sri Lanka- to declare Vesak Day as a fully-fledged UN holiday, Parliamentary reforms and Media Ministry Secretary Nimal Bopage said today.
The 193-member UN General Assembly in 1999 declared an "International Day of Observance for Vesak" on the initiative of the then Foreign Minister Lakshman Kadirgamar.
UN Vesak Day celebrations would be held in Sri Lanka on May 12 to 14 this year with the participation of more than 1,000 delegates representing all Buddhist countries around the world, Bopage stated when he visited the Mahanayake of the Malwatte and Asgiriya Chapters at the respective Temples in Kandy.
Respecting the diverse religious affiliations of UN staffers, the General Assembly unanimously adopted a resolution in January last year recognising seven new UN "floating holidays", including Vesak, Orthodox Good Friday, Yom Kippur and Diwali.
According to the resolution, staff members should inform their supervisors in advance, as early in the year as possible, of the floating holiday they wish to observe.( Nadeeka Daya Bandara)