---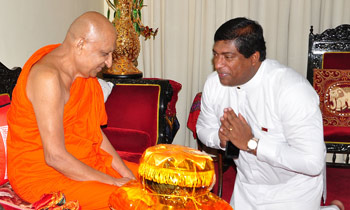 Foreign Affairs Minister Ravi Karunanayake said that the government intends to establish diplomatic ties with several new countries and it is important to give priority for commercial diplomacy.
The minister revealed this on Monday when he paid a courtesy call on the Chief Prelate of the Malwatte Chapter Most Venerable Thibbatuwawe Sri Sumangala Thera.
Minister Karunanayake told the Malwatte Mahanayake Thera that the rule of the Good Governance was able to change the negative image of the country and gain the support of the international community during the last two years.
He said that it seemed that certain diplomats do not take any attempt to create a positive image of the country among the international community and that the government appoints ambassadors to serve the country but not to enjoy a comfortable overseas stay during their tenure.
"Steps have been taken to call back several such ambassadors as they have failed to perform their duties. The tax payers' money is spent to maintain the staff members of missions who are sent on diplomatic service and, if such officers fail to perform their duty, the government would not hesitate to replace such diplomats," he said.
Responding to the Minister, the Mahanayake Thera said that employing talented youths in Foreign Service, instead of sending retired persons as heads of foreign missions, would be of paramount importance. (By Lahiru Pothmulla)