---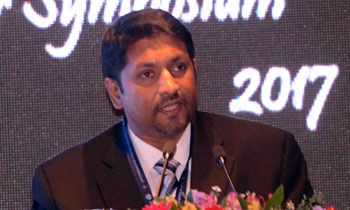 We must focus on modern threats to our national security that can lead to instability by way of financial crises, climatic events, cyber attacks and pandemic diseases, State Minister of Defence, Ruwan Wijewardene said today.
He said this at the 'Colombo Air Symposium 2017' at which he was the Chief Guest.
"States have placed national security as the prime objective and leaders are seeking how best they could enter into partnerships with other countries. International conferences such as the Colombo Air Symposium has set a platform for such strong partnerships. Cyber attacks, drones, sabotage, suicides, terror tactics, media campaigns, guerrilla attacks and fear tactics that cause mass hysteria have become common occurrences today. Asymmetric threats are the most complicated security threats to deal with because of their dynamic nature. An asymmetric attack may cause sudden emergence of problems within the health sector, security and the safety of the region, improvement of infrastructure, law and order, security of food, relief provision and failure of the administration sector of a nation. Being prepared for the unforeseen is the biggest challenge we face today as policymakers," the state minister said.
He said the Sri Lanka Air Force played a key role in establishing peace and had always proved its readiness to learn and change for the betterment of the country.
"Sri Lanka's air power makes an immense contribution towards national developmental goals along with its other sister forces," the state minister said.( Darshana Sanjeewa)