---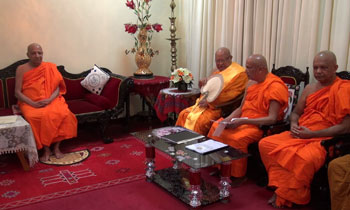 The Karaka Sangha Sabhawa of the Asgiriya Chapter has said a new Constitution was not the need of the hour.
The Sanga Sabhawa which is headed by the Asgiriya Mahanayake the Most Ven.Warakagoda Sri Gnanaratana Thera passed a resolution to this effect after a lengthy discussion.
The members of the council had also resolved that the foremost place accorded to Buddhism and the unitary character of the country should be retained and the executive powers of the president should not be scrapped.
The Council said electoral reforms could be introduced in the form of a constitutional amendment if necessary and noted that the draft proposals for constitutional changes had been discussed with the involvement of NGO representatives who were advocating power devolution. However, the Mahasanga were not invited for this meeting. (J.A.L. Jayasinghe)