---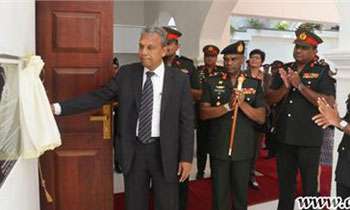 The Sri Lanka Army has earned more than USD 161 million from UN peacekeeping missions since 2004, Army Commander Lieutenant General Mahesh Senanayake said on Thursday.
He said this at the opening ceremony of the Directorate for Overseas Operations (DOO) at the Old Dutch Building in Colombo 3.
"Since 2004, Sri Lanka has been earning a minimum of USD 2.5 million per annum from peacekeeping missions overseas. The troops deployed for such assignments benefit financially and through these undertakings, the country amasses foreign remittances that are utilised to train more and more soldiers. Since 1955, a number of 18,179 members attached to the Sri Lanka Army have extended their invaluable services to UN peacekeeping missions. The contingents are currently engaged in peacekeeping missions in Lebanon (UNIFIL), South Sudan (UNMISS), Mali (MINUSMA), Abyei (UNISFA), New York (UNHQ), Central African Republic (MINUSCA) and Western Sahara (MINURSO), either as military observers, staff officers or officer assistants or general contingent troops," he said.
The DOO Defence Secretary declared open the 'Mansion of Peace' (Sama Madura) building at the complex, which is established to handle international peacekeeping and overseas operational commitments under the Director General, Staff Branch.
"Our vision towards world peace is to contribute an effective combat outfit under the United Nations to achieve sustainable peace in conflict zones. Fast changing political dynamics have become a complex and multi-dimensional challenge," the Army Commander said.
Earlier, the UN Department of Peacekeeping Operations (DPKO) insisted that feasible clearance for such deployments should be sought from the Sri Lankan Human Rights Commission (SLHRC) by vetting respective overseas bound UN candidates before their departure. Meanwhile, DG of the Directorate for Overseas Operations, Major General Mervyn Perera said future peacekeeping deployments, training and other activities related to overseas operations would be handled by the DOO.(Darshana Sanjeewa)