---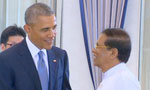 US President Barack Obama had told President Maithripala Sirisena that Sri Lanka was at a transformational stage and that it was an example to other countries.
President Sirisena, who is in US to attend the 71st session of the UN General Assembly, met world leaders including the US President at a luncheon hosted by the outgoing UN Chief Ban Ki-moon.
"President Obama said Sri Lanka was an example to others and that US will be with us whenever we need assistance," President Sirisena told media in New York.
The President said UN Chief Ban Ki-moon also expressed positive sentiments over the measures taken by Sri Lanka to create a better environment for the people.
President Sirisena also met with Australian Prime Minister Malcolm Turnbull and Canadian Premier Justin Trudeau.
Meanwhile, United Nations High Commissioner for Human Right Prince Zeid Ra'ad Al-Hussein, who met with the President, had assured that there was no rift between the Human Rights Commission and Sri Lanka.
"All the leaders are happy with the progress we have made in Sri Lanka. We have their blessing." the President said.