---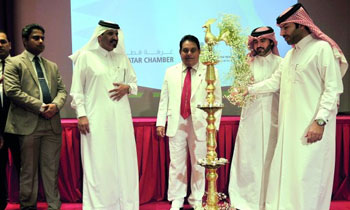 For Qatar, Sri Lanka is a strategic partner in South Asia, Vice Chairman of Qatar's Chamber of Commerce and Industry Mohammed Bin Ahmed Bin Towar Al Kuwari has said.
According to 'The Peninsula', he had expressed these views at an event held recently under the theme 'Employment Promotion in Qatar' which was organised by the Sri Lankan Embassy in collaboration with Qatar Chamber.
Al Kuwari said both countries have signed various agreements and memorandum of understandings to enhance economic relations.
"However, what has been achieved so far does not reflect the potential both the countries have. Their trade volume reached $73m last year which doesn't correspond to vast opportunities available in both countries," he said.
"On behalf of Qatar Chamber, I would like to invite more Sri Lankan companies to take part in renaissance taking place in Qatar and establish joint ventures with Qataris in all sectors. We also urge Qatari businessmen to explore the investment opportunities galore in Sri Lanka and establish business partnerships and alliances with their Sri Lankan counterparts," Al Kuwari said.
He said the relations between Qatar and Sri Lanka reflected in the presence of a large number of Sri Lankan expatriates contributing to the development of Qatar.
"Qatar Chamber highly welcomes more skilled workers and employees from Sri Lanka to work in the mega projects being implemented for developing the infrastructure and for the 2022 FIFA World Cup. I would also like to take this opportunity to call on Qatari businessmen to give more jobs to skilled Sri Lankans in their businesses," he added.
Al Kuwari also stressed the need for more space for trade and investment opportunities between Qatar and Sri Lanka.
Sri Lankan Ambassador to Qatar A.S.P. Liyanage, Qatar's Administrative Development Ministry's Employment Department Director Fawaz Mohammed Al Rayes, Deputy General Manager (Marketing & Recruitment) of Sri Lanka Bureau of Foreign Employment D.D.P. Senanayake and licensed foreign employment agents of Sri Lanka also attended the event.