---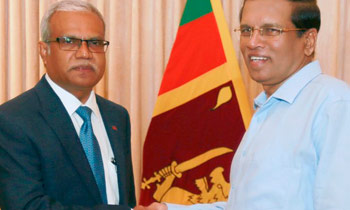 President Maithripala Sirisena yesterday emphasized the need for joint action by Sri Lanka-Maldives after reports that a small group of unscrupulous elements were found to be travelling between the two countries and indulging in nefarious activities.
The President is reported to have said this at a meeting with Maldivian Foreign Affairs Minister Dr. Mohamed Asim. The visiting Foreign Minister had assured the President that his country would extend its fullest cooperation to immigration and law and order authorities in Sri Lanka in this regard.
The President said Sri Lanka had received generous support from the international community during this calamitous time because of the government's policy of maintaining good relations with all countries.
Dr. Asim in his capacity as the special envoy of the Maldivian President conveyed condolences from the Government and the people of Maldives to Sri Lanka in the wake recent floods and landslides which killed more than 200 and left tens of thousands homeless and in different states of destitution and degradation.
Dr Asim is said to have briefed the President on the current political developments in the Maldives. Foreign Secretary Esala Weerakoon and High Commissioner of Maldives Zahiya Zareer were also present. (Sandun A Jayasekera)