---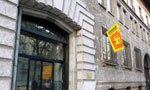 The Sri Lankan Government has made arrangements to open a Consulate General Office in Milan, Italy with effect from February 1, Foreign Affairs Ministry said today.
"A Consulate in Milan has been a long felt need for the Sri Lankan community in northern Italy, with previously consular services in Northern Italy being carried out by a mobile consular service by the Sri Lanka Embassy in Rome. Accordingly, all requests for Consular Services from those residing in the Regions of Lombardy, Friuli Venezia Giulia, Liguria, Piedmont, Trentino Alto Adige, Valle d' Aosta and Veneto in Italy, would be handled by the Consulate General Office in Milan," a statement issued by the ministry said.
It said Mrs. Pradeepa Saram has been appointed as the Consul General.
She is a member of the Sri Lanka Foreign Service batch of 1998 and has served in Sri Lanka missions in the United Arab Emirates, Germany and the United Kingdom and was the former Actg. Director General of the ConsularAffairs Division of the Foreign Ministry.