---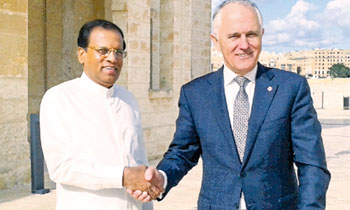 President Maithripala Sirisena's visit to Australia would be an opportunity to advance key areas of bilateral co-operation including action against human smuggling, Australian Prime Minister Malcolm Turnbull said yesterday.
Australian Premier said in a media statement that education, defence, science and technology, economic development and medical research were among the topics which would be discussed.
President Sirisena arrived in Canberra and he is scheduled to visit Sydney during the three-day official visit.
This is the first time a Sri Lankan Head of State has made a state visit to Australia and it follows Prime Minister Ranil Wickremesinghe's successful visit in February.
"The year 2017 marks the 70th anniversary of diplomatic relations between Australia and Sri Lanka. Our deep and enduring friendship is anchored in shared history as Commonwealth countries and through our shared interests as Indian Ocean nations. I look forward to meeting President Sirisena on this important visit," Premier Turnbull said.