---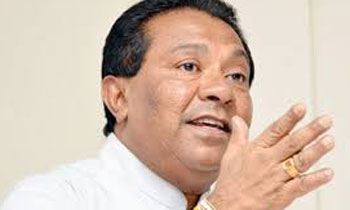 Social Empowerment, Welfare and Kandyan Heritage Minister S B Dissanayake has apologized to the Mahanayake Theras on behalf of the government on the allegations made in their statement.
He told a news conference that he felt he was responsible for some of the complaints made by the Theras.
"Therefore, I take this opportunity to apologies to the prelates for their annoyance over me or the government," the minister said.
He said the prelates were of the view that the government did not respect Bodu Bala Sena General Secretary Galagodaaththe Gnanasara Thera.
"As a government, we do not approve his behaviour. However, we can't label him a racist. He has also been vocal on some pressing issues and found solutions for them amid struggles. We should admire his perseverance," the minister said.
He said it was the obligation of the government to create an atmosphere where members of different religions could live in harmony.
Meanwhile, referring to the regaining of the GSP plus facility, the minister said Sri Lanka was isolated by the world community from 2010 to 2015 but with the regaining of this facility, the country had found access to the global arena.
"We were deprived of the GSP concession by the European Union during the previous regime over the situation prevailing in the country at that time. But the situation changed after this government came to power. We should express our gratitude to the EU. This is a great victory by this government," he said. (Sheain Fernandopulle)
Video by Chamil Rupasinghe